The Improvement Association is an anti-poverty, non-profit Community Action Agency that mobilizes community resources to provide comprehensive initiatives and services in several localities in rural Southside Virginia. Since its inception, The Association has been advocating for, and assisting, moderate to low-income families. Staff is experienced in early childhood education, job development, housing and emergency services, and youth services.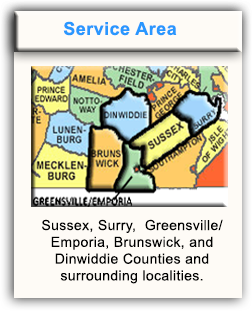 In 1968, a group of concerned citizens of Sussex County gathered at Gallilee Baptist Church in Stony Creek to address some of the needs and social ills plaguing low-income families in the county. As a result of that meeting, The Sussex County Improvement Association was organized. The agency received its Certificate of Incorporation in 1979 and was designated a Community Action Agency in 1982.
Community leaders from neighboring localities were impressed with the mission and work of the Association and requested that services to expanded to include their counties. After expanding services to multiple localities, the name was officially changed to The Sussex-Surry-Greensville County Improvement Association and, finally, to The Improvement Association in 2007.

The Improvement Association offers a "hand up, not a hand out," to a better quality of life.