Parent's as Teachers (PAT) is a FREE Maternal, Infant, & Early Childhood Visiting (MIECHV) program for prenatal mom's and children up to 5 years old. This program helps get your child school ready and makes sure that they are hitting their developmental milestones and passing hearing and vision screenings.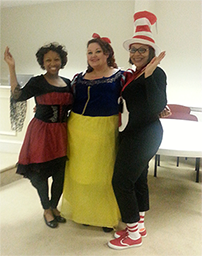 Parent Educators do bi-weekly home visits with you and your child. These visits give you age appropriate information and activities that will make parenting and your life much easier. Many activities use items you may already have in your home. Who would've thought that something so simple as a cotton ball and a water bottle helps to work on your child's problem-solving and fine motor skills?
Parent Educators also provide information on prenatal care and health and development of the baby, and show you how to encourage intellectual development, curiosity, and language development. Because our nurse does hearing and vision screenings and your parent educator performs developmental screenings, any issues can be addressed early.
MIECHV serves families in Greensville/Emporia, phone (434) 634-2490, and Sussex, (804) 834-3522.
PROGRAM SERVICES
Developmental Assessments
Dental Screenings
Early Childhood Development
Family Well-Being
Hearing
Prenatal Support
Vision
Group Connections (Socialization)