The POWER program is where academics and employment training meet. The framework for The Improvement Association POWER program capitalizes on the following four WIA Themes: Improving Educational Achievement, Preparing for and Succeeding in Employment, Developing Youth Potential as Citizens and Leaders, and Support for Youth.
PROGRAM ACTIVITIES
Occupational Skills Training
Career Exploration
Leadership & Work-readiness Training
Paid Work Experience Activities (Summer Jobs)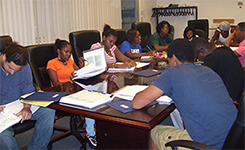 "I am grateful for all the opportunities I received as a participant in The Improvement Association POWER Program. Without the support of the program and staff I would have never made it through such difficult times, I know I would have given up. " Read Ashley's full testimonial here.
"Full time employment with benefits and then an Associates Degree from Southside Community College! Click here for Natalia's story.



POWER serves youths and young adults ages 16 - 21 in the localities below.
Emporia/Greensville County
Dinwiddie County
Sussex County